Here are the 10 best games we played in 2022
We played a ton of great games in 2022, but these are our 10 favourite games of the year.
2022 spoiled us with an avalanche of fantastic videogames, ranging from new open-world adventures to new Soulsborne entries that had us hooked for weeks on end. While we haven't played every game released in 2022 (I'm looking at you, Immortality!), we've played enough to come up with a Top 10 list that we're pleased with. Conveniently, this also doubles as a wishlist you can turn to when you're browsing upcoming sales for the good stuff. Being a patient gamer pays off, after all. 
Here are the best games we played in 2022:
Elden Ring
Perhaps the most predictable inclusion on this list is FromSoftware's latest Soulsborne game Elden Ring, which arguably represents a culmination of the developer's entire efforts in a genre it turned mainstream. Elden Ring takes the classic Souls formula and rejiggers it for an open-world format by taking the enigmatic world design the series is known for, and putting it front and center. As an open-world game, it has its faults - but one can't help but be in awe of the game's monumental bossfights, locations laden with secrets and complete freedom that it grants players in story progression.
God of War: Ragnarok
When Santa Monica Studio announced that God of War: Ragnarok would close out the franchise's Nordic era, players were skeptical. One game seemed insufficient to resolve all the dangling story threads left over from God of War (2018), especially seeing as we still hadn't visited all the realms or met all of the gods yet - not even Thor! Ragnarok almost immediately vanquishes these concerns, taking players on an unbelievably epic journey across the Nine Realms as Kratos and Atreus struggle with their ties to destiny and beyond that, Ragnarok itself - the end of the world as they know it. 
Ragnarok is a massive step up in scale from the first game, but it doesn't lose the masterful character work we loved about the original, with an ending that cements Kratos as one of the greatest gaming protagonists of all time. There is so much to love about this journey, but much of it comes down to the fact that Kratos' growth feels organic and justified, thus making this a satisfying duology in its own right. 
A Plague Tale: Requiem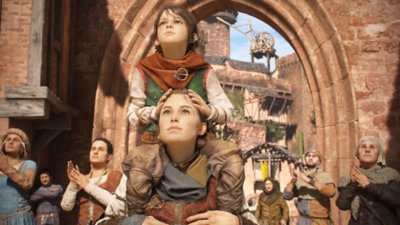 After Hugo and Amicia fled the French Inquisition in A Plague Tale: Innocence, it felt like the worst was behind them. After all, what could be worse than hordes of deadly flesh-eating rats and armies of soldiers coming after you all at once? As it turns out, a lot of things. Requiem is a jaw-dropping leap in visuals for this horror-survival series, with an expansive story that takes the two siblings on a journey across multiple locations - from friendly towns to hostile pirate caves - as they pursue the origins of Hugo's powers. This game is so rich in detail, so full of eye candy and so peopled with colourful characters, that it's easy to look past its janky combat and feel nothing but a heavy sense of closure when the credits roll. 
Pokemon Legends: Arceus
Pokemon Legends: Arceus took a franchise I love in a very predictable, but nonetheless satisfying direction. We've wanted an open-world Pokemon for ages, and this was the only title in 2022 that really delivered on that without being bogged down by bugs and glitches. The barren landscape of ancient Sinnoh really worked in the game's favour here, giving players a constant sense of discovery while traversing new lands or coming into danger when they bumped into a hostile Pokemon. I'd love a sequel that really fleshes out these mechanics and allows us to dive into ancient versions of other Pokemon regions, but with a more compelling story underneath it all. Still, this was a great start. 
Horizon Forbidden West
Aloy's exploits in futuristic America might have once again been usurped by yet another open-world game, but make no mistake: Horizon Forbidden West was one of the best PlayStation exclusives we've played to date. In addition to the game's unbelievable visuals and creative enemy design, this sequel doubled down on the original game's main strength: its lore. It didn't seem like Aloy's world had many secrets left to unearth, but Forbidden West proved us wrong big-time, expanding the scope of this story while fleshing Aloy out as a person, and giving her a wider cast of characters to interact with. This was one of the most memorable adventures we went on in 2022, and certainly one of the best games we played all year. 
Mario + Rabbids: Sparks of Hope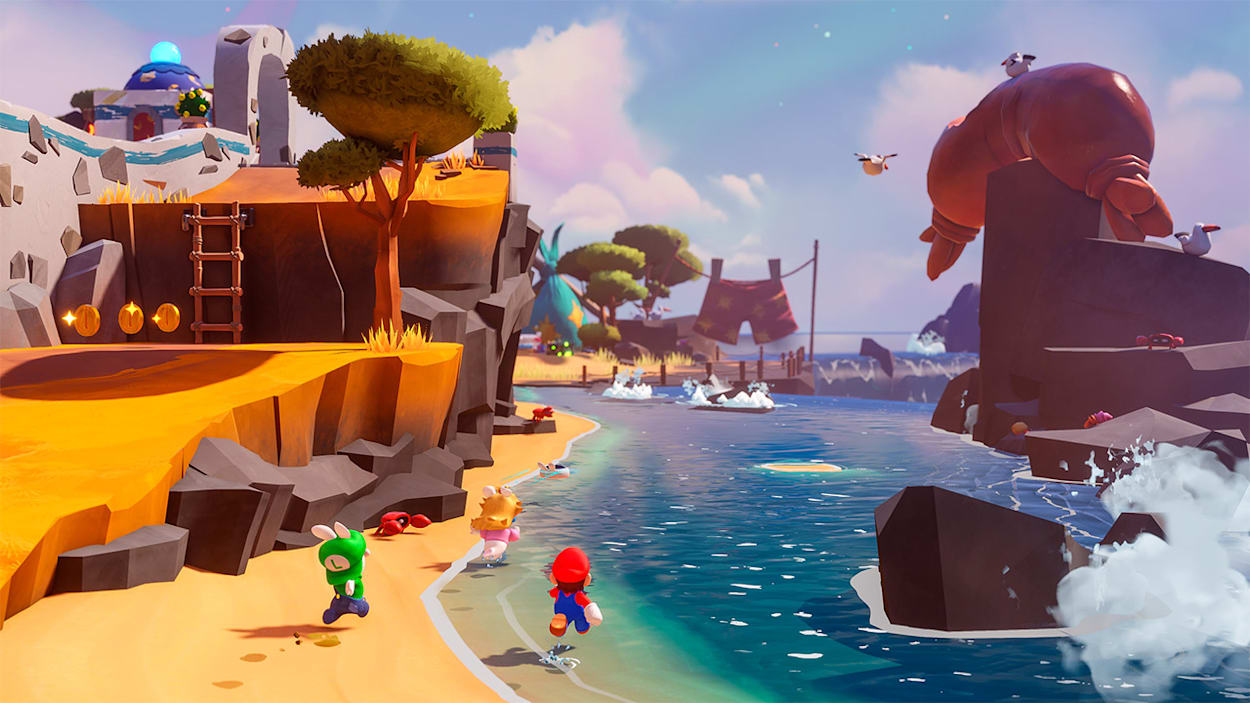 If you told us that the new Mario + Rabbids game would have a spot on this list at the start of the year, we might not have believed you, but here we are. Sparks of Hope expands upon its predecessor's turn-based strategy gameplay to deliver even more exploration, even more worlds to explore and even more customisation to dive into. Its combat is repetitive but addictive, giving the player multiple combinations of abilities and characters to play with so you never get bored of jumping into battle. The story is pretty fun as well, with a self-aware tongue-in-cheek tone that does all the heavy lifting to make this crossover shine. 
Stray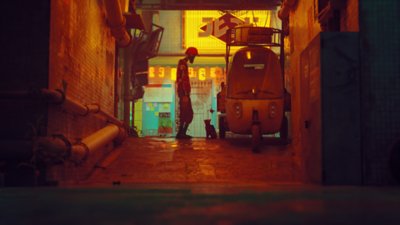 Developer BlueTwelve Studio's debut game Stray isn't just on this list because it lets you play as an adorable cat, though that certainly doesn't hurt. Universal cat behaviour like sleeping in nooks, scratching up furniture and knocking things over translated surprisingly well into gameplay. However, what we really fell in love with here is Stray's world, a post-apocalyptic cyberpunk city mysteriously devoid of humans and populated by robots wearing television sets for heads. The music is great, the visuals are gorgeous and the central mystery our cat protagonist unwittingly journeys to solve had us hooked until the credits rolled. 
Marvel Snap
Marvel Snap is shockingly good. This card game hails from game designer Ben Brode of Hearthstone fame, simplifying the mechanics we've come to associate with the genre for matches that can be played in short 3-5 minute bursts. The game's Marvel-themed cards are the key to this game's success, not just in how satisfyingly accurate they are to their comicbook counterparts, but in how well the variant system works to entice players into collecting different versions of the same card. Unlike a lot of other card battlers, Marvel Snap is a fun and casual romp that we see ourselves returning to many times over in 2023. 
Cult of the Lamb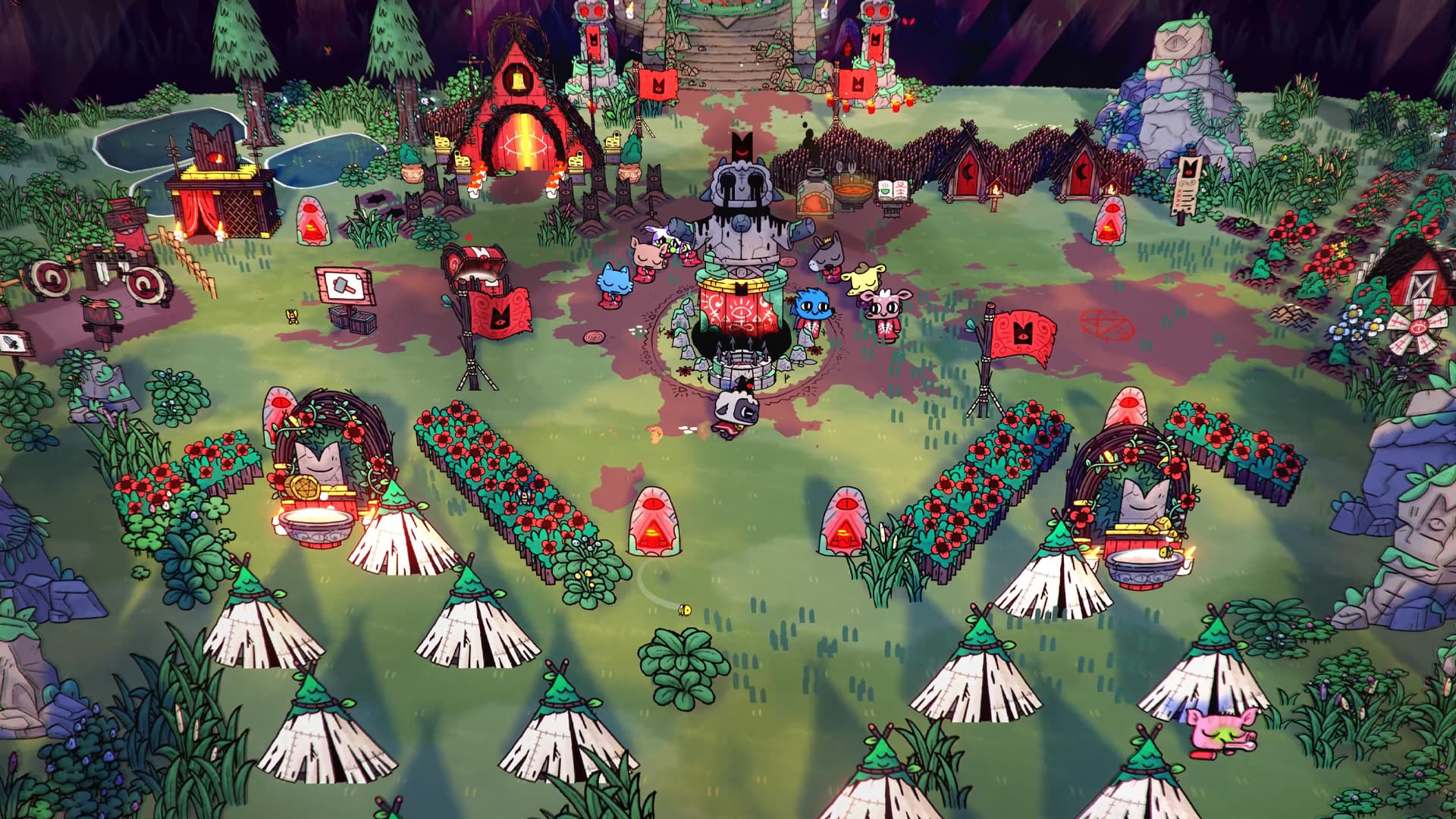 Join a cult, but make it cute. Cult of the Lamb puts you in charge of a resurrected lamb who now has to build an entire cult from scratch, populated by very cute animals. This roguelike has a surprisingly compelling story to unravel, buried in the depths of its five regions where players must journey to find and indoctrinate members of their cult. There's a fun sim element here in keeping your cult in order and dressing its members up, but the real consequences come with how you choose to manage your cult - will you be a benevolent leader or a ruthless dictator? This was one of the most unique games we played this year, and easy evidence that 2022 wasn't wholly dominated by blockbusters. 
OlliOlli World
OlliOlli World is by far the cosiest game we played all year. The skateboarding series switched artstyles for its latest entry, which totally works in its favour. Its pastel colours, cartoonish characters and colourful kinetic effects provide solid eye candy against all of its hand-drawn backgrounds. Its skateboarding gameplay feels fun in a casual way at first, but soon becomes an addictive mix of pulling off difficult trick combos and switching up routes on the fly depending on what the game throws at you. We also loved playing around with its incredibly diverse character customisation system, which only expanded in content the more we played the game.